Rug Binding
Rug Binding from Local Professionals
A professional rug binding treatment protects the beauty and overall quality of your area rugs. Our binding service comes with the craftsmanship of our experienced technicians, a 30 day, 100% satisfaction guarantee and quality results you will love.
Our technicians dedicate complete attention to all details of your rugs. They understand the intricate weaves, knots, and foundations of all types of rugs, hand-made and machine-made, and all materials, synthetic and natural.
We give you quality service and professional results every time. Trust New York Rug Cleaning with your rug binding service.
Comprehensive, Unique Binding Process
Whether you want to repair a damaged binding or create a brand new binding, trust our rug technicians to provide you with the results that suit all your needs. We work to make you happy with our large options of binding service.
When you choose New York Rug Cleaning for your binding service, we give you a comprehensive service that starts with a professional inspection. During the initial inspection, we map out our service plan and use all gathered information to help us deliver the best binding possible.
After the inspection, we take your rug to our off-site service warehouse to maintain quality control. We perform all binding services by hand using premium products.
We finish your binding service with a quality clean to seal in the work and leave you with a fresh clean rug.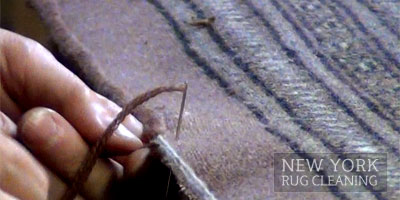 Trust our Quality Service
So when you're on the market for a binding service, call New York Rug Cleaning. You'll love our high quality results at affordable prices.