Rug Reweaving
Leave Loose Ends to New York Rug Cleaning
At New York Rug Cleaning, we provide professional rug reweaving services when your rug starts to fringe and unravel. Our reweaving service comes with the experience and knowledge of our expert rug care team.
Our traditional methods for repairs and fixes ensure the highest quality results. Our premium materials and all natural products give your rug the professional care it deserves.
Damage Control
Over time, exposure and daily wear cause the original strength of your rug to deteriorate. Stains, spills and sun rays aggravate and destroy the knots of the weave. This causes the rug to unravel from the interior pattern and fringe along the sides.
Our professional team corrects all loose knots and unraveled weave. We restore both the strength and beauty of your rug completely.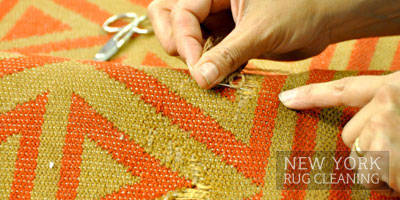 Complete Professional Correction Process
We start the reweaving service by evaluating the state and extent of the damage. This helps us prepare for the appropriate service.
Once your rug arrives at our service facility, we immediately start by matching the correct colors then hand-dye our yarn. This maintains both color and texture consistency.
We then set and secure the yarn together with your rug into our traditional loom. Our experts then start the actual weaving of the damaged areas.
They carefully and accurately integrate each new thread into your rug. They match the knots, patterns and style of your original rug to leave you with a traditional, undetectable repair.
So when your rug starts to get a little too loose, call the reweaving team at New York Rug Cleaning.