Rug Fringing
Put an End to Loose Fringes
When the ends of your rugs start to look tattered and unkempt, let the rug care team at New York Rug Cleaning perform a fringe repair service. Our service restores the overall beauty and quality of your rug.
We treat your rug with care and respect. We perform all our fringe repair services by hand using the best quality materials and products.
When you choose us for your fringe treatment, you receive quality results that last.
Put an End to Loose Fringes
Everyday use and exposure, coupled with other environmental factors, take a toll on the delicate fringing of your area rug. Due to excess dirt, set-in stains, heavy traffic and sun light, fringing collects messes and easy tears away from the base of the rug.
Our rug care experts professionally correct these problems with our fringe repair service. We start with a complete inspection of your rug. This helps us diagnose all problems and determine the correct form of repairs needed.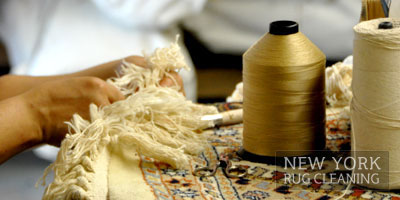 After the inspection, proceed with the proper repair work. We provide the following repair services:
•Reweaving
•Re-knotting
•Re-sewing
•Cleaning
•Trimming
•Complete Fringe Replacement
Results you Love, Trust
Our complete, precise methods leave you with a fringe repair service you love and trust. So when your fringe starts to look a little lack luster, call the experts at New York Rug Cleaning.